On page SEO and Off page SEO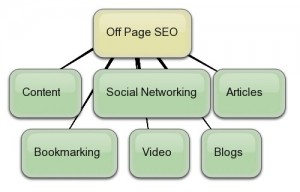 Categorizing SEO Tactics – On-page and Off-page Search Engine Optimization
The aim of creating a business website, or any website for that matter, is to attract visitors. This influx of traffic on the website has now become closely related with Search Engine Optimization, the art of increasing your website's visibility on the search engine rankings. Traffic and SEO are now bound to be mentioned in the same sentence in most cases; figuratively of course! So if you plan to increase the number of visitors to your website, you will need to focus on the many SEO tactics available today.
Over the years, SEO has become a major field of focus for webmasters, and has thus been further categorized into numerous sub-divisions. Presently, SEO can e categorized into two major divisions: On-page SEO, and off-page.
Understanding On-page SEO
All tactics and techniques used to increase the page's visibility that center around your own website's structure, are referred to as On-page SEO. This could be anything, ranging from meta-descriptions, to the keywords your website content is built around. As a webmaster, it is critical to focus on optimizing your website for SEO purposes; although On-page tactics are unlikely to work on their own without being combined with effective Off-page SEO efforts. We have come with a simple checklist of some of the more essential On-page SEO factors to which your attention should be directed:
Proper keyword research, testing, and implementation within the website content
Compelling Meta-description to increase website click-through from search results
Keyword-friendly ALT and H1 tags within the content
Streamlined XML and public display sitemap
Linking sub-URL's of the website internally
High-quality and relevant content – the most critical part!
The list can keep going on and on, but these are the ones you would do well to start with, as far as On-page SEO goes.
Off-page SEO – Optimizing Externally
Search engines determine the significance and relevance of each webpage regarding user search queries, in two major ways. Firstly, the web crawlers go through a website and determine its importance and effectiveness based on aforementioned On-page factors. Then, they track how the rest of the internet perceives that website; the cultivation of this part, with respect to the website, is done through Off-page SEO tactics. Let's take a look at the bare bones checklist, shall we!
Building inbound links through guest posting
Submission of your website through social bookmarks
Article and Press Release submissions on reputable directories
Blog comments and forum posts to trigger mentions of your website on such public forums
Submissions on RSS feeds
Optimizing social media through efficacious profile creation
Submitting videos centering on your products and services
Once again, the checklist is not by any stretch the most comprehensive one, but will enable you to get started on focusing on the most critical Off-page SEO factors. Most, if not all, of the above methods focus on building links; this directly contributes in the relevance of your site on the World Wide Web from the search engine's perspective.
Avoid SEO Spam
Many people, who are new to the world of SEO, tend to jump into the shadier side of SEO, using tactics like keyword stuffing and hiding inbound links within the webpage, or using link farms. These tactics never help in the long-run, often instead resulting in your website getting blacklisted. Avoid SEO spam!